Quality First (Always)
From the conception of the project through its timely delivery, our team strives to be recognized for world-class quality products that meet or exceed our customers' expectations. In order to do this, our culture is based upon an open communication environment with our customers.
Our ISO 9001:2015 quality management system is constantly reviewed for continual improvement in order to ensure this quality of product is delivered to each and every one of our customers.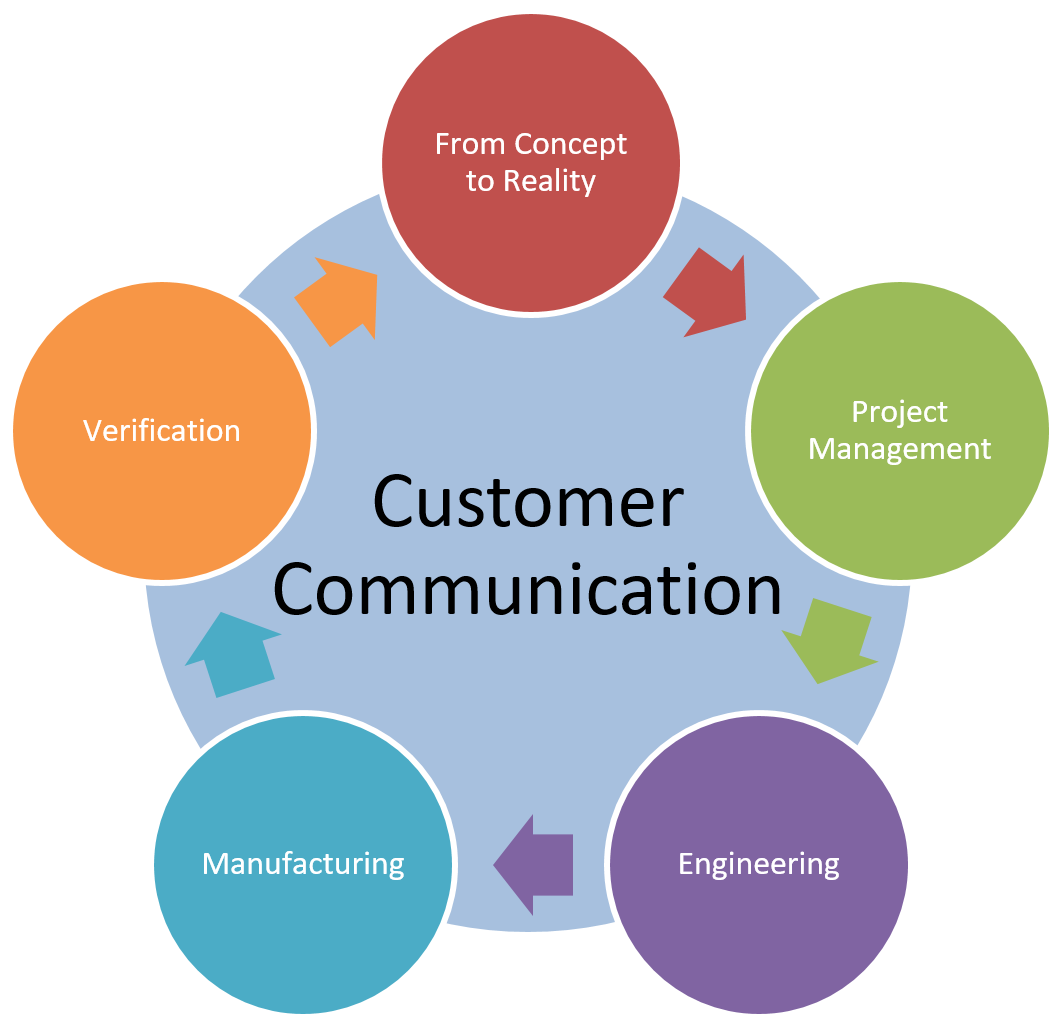 Our Goals
To be a global leader in the mold supplier industry, using the latest technology and processes.
To provide our employees challenging opportunities and an exceptional work environment.
Studies have shown that companies that utilize ISO 9001 as a quality and management tool have key performance measures in place that continually drive improvement, helping to achieve consistent quality and customer service.
Our Quality Policy
Model Die & Mold is committed to a philosophy based on integrity, teamwork, service of our customers, and fairness and concern for our employees. Our vision is to exceed the expectations of customers in terms of quality, service, and on-time delivery while maintaining a culture of a profitable business. We will adhere to the requirements and standards of our customers to achieve our goal of being their preferred supplier and be recognized as a leader in the industry.
How Do We Do It?
Lean Manufacturing

We've all heard the expression "time is money." The concept of efficiency in business has long been a characteristic of manufacturing. But Lean Manufacturing (LM) principles take efficiency to a whole new level.
Lean Manufacturing provides an even distribution of work and ensures that production doesn't waste quality, time, money or resources.
Originally devised by Toyota Production System, LM aims to enhance the overall customer experience by reducing or eliminating seven specific types of waste:
Transport
Inventory
Motion
Waiting
Overproduction
Over-processing
Defects
5S Systems
Here at Model Die & Mold, we employ one of the most effective LM techniques ever devised, called "5S."
5S is a simple, yet powerful tool created by the Japanese for systematic workplace organization. With 5S systems in place, productivity is enhanced and work is standardized at all levels of the process. This allows iterations to occur at higher speed, promoting higher levels of production.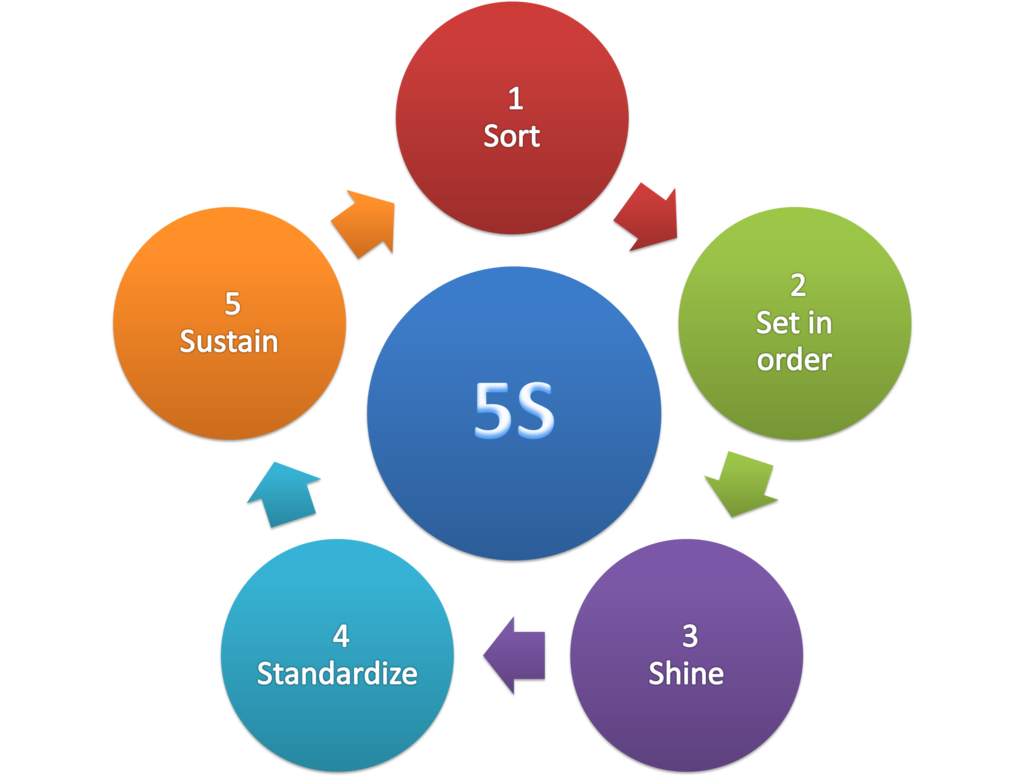 By Musinik (Own work) [CC BY-SA 3.0], via Wikimedia Commons
The 5S tool works methodically in five phases:
Sort - This first step involves sorting out all the mess and clutter within the workplace, while keeping only the most important and useful items within a designated work area. This provides a clean slate on which to implement the other four steps.
Straighten - Here the necessary items are arranged in the most efficient manner to be easily used. The purpose of this step is to minimize waste and loss of time by preventing employees from searching around for tools needed to complete their jobs. ("A place for everything, and everything in its place.")
Sweep/Shine - This is basically a thorough cleaning of the entire workspace to attain perfect order. This means cleaning all the tools, systems, machines and equipment. Deep cleaning helps to prevent workplace accidents, which can potentially destroy efficiency. It also eliminates non-conformity that may arise due to technical difficulties.
Standardize - This step is all about building in common standards. Standardizing the approach to 5S ensures that organizational efforts are sustained in the long run. Failing to standardize procedures can lead to sloppy work and loss of efficiency. This is a crucial phase.
Sustain - This final stage involves taking all of the previous steps and transforming them into ongoing habits to ensure continuous improvement. It means regular auditing of the processes, tools, and equipment. This is where work routine becomes a culture.
5S methodology is considered to be one of the basic foundational elements of Lean Manufacturing. Some of the measurable benefits realized from 5S include:
A solid foundation for continuous improvement
Employee ownership of the process
Waste reduction
Improved safety within the work environment
Improved productivity, quality, and staff morale
Me•trol•ogy -
A Scientific Study of Measurement
In the mold business, metrology is critical. Accurate, consistent part quality relies on molds that are built to a fraction of the part's tolerance.
Model Die & Mold takes tolerances very seriously. We combine in-house and third-party resources with the latest advancements in measurement technology to ensure the highest quality. Machines are routinely laser-calibrated for accuracy and repeatability. Inspection equipment is calibrated annually using NIST traceable reference gauges. Model Die & Mold delivers confidence.
On-machine laser and touch-probing systems speed setups and enable measurement of a part as it is being produced. Laser tool probes calibrate cutting tools prior to machining operations, and verify cutter integrity after machining to ensure results with accurate cutters. Laser probes measure to accuracies of 0.0001" and are able to sense thermal changes in the machine, as well as cutter runout. The result is a more accurate mold in less time.
We combine our own in-house measurements with third-party validation, using both touch-probe and laser measuring systems. This provides unbiased inspection reports, a sort of second opinion to assure the quality you expect and deserve.
The "Laser"
Laser measuring is an important part of everything we do, from measuring our cutting tools to calibrating our machinery. Laser light is coherent light, and it's a thousand times more intense than any other monochromatic source.
Laser measuring systems are consistent, not affected by temperature changes. The properties of laser light make it the ideal mechanism for dimensional measurements and surface inspections. Laser measurements are consistent and accurate, even over long distances, critical to holding close tolerances over large parts we typically work with.
You can count on Model Die & Mold for accurate, consistent parts from quality molds built to last.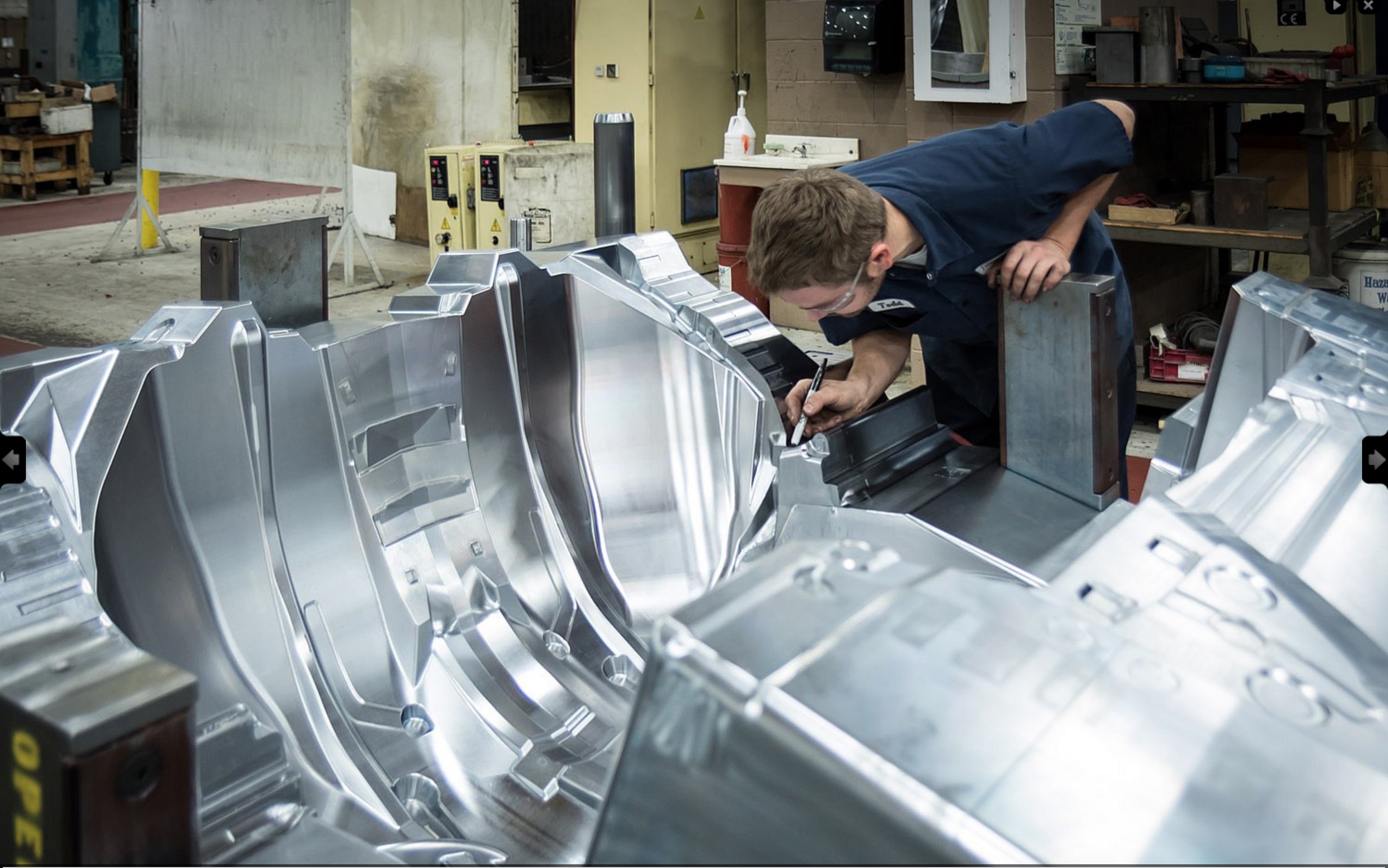 Final Inspection
A high quality mold being inspected by a moldmaker.