About Us
Model Die & Mold Inc. specializes in the design and build of injection and compression molds, primarily for automotive/heavy truck, aviation, kitchen/bath, and architectural markets.
Founded in 1966 by Ray Brown, father of current President and CEO Gordon Brown, Model Die & Mold now employs more than 65 highly skilled tradesmen.
As President and CEO, Gordon Brown has hands-on expertise in all disciplines of the company. He has worked at Model Die full time since 1979, becoming President and Board Chairman in 2003.
Gordon became the company's majority owner in 2011. He is now focused on developing lead managers and systems that will allow the company to move to the third generation.
Model Die & Mold Vision Statement
Model Die & Mold will be internationally recognized as a leader in the design and build of injection compression molds for custom molders.
We will pursue sound financial strategies by focusing on providing customer confidence in the quality of our products, following through on commitments, and using up-to-date technology and processes.
We will utilize an experienced team of committed individuals who take personal responsibility for meeting the needs of our customers.
The CAD/CAM Revolution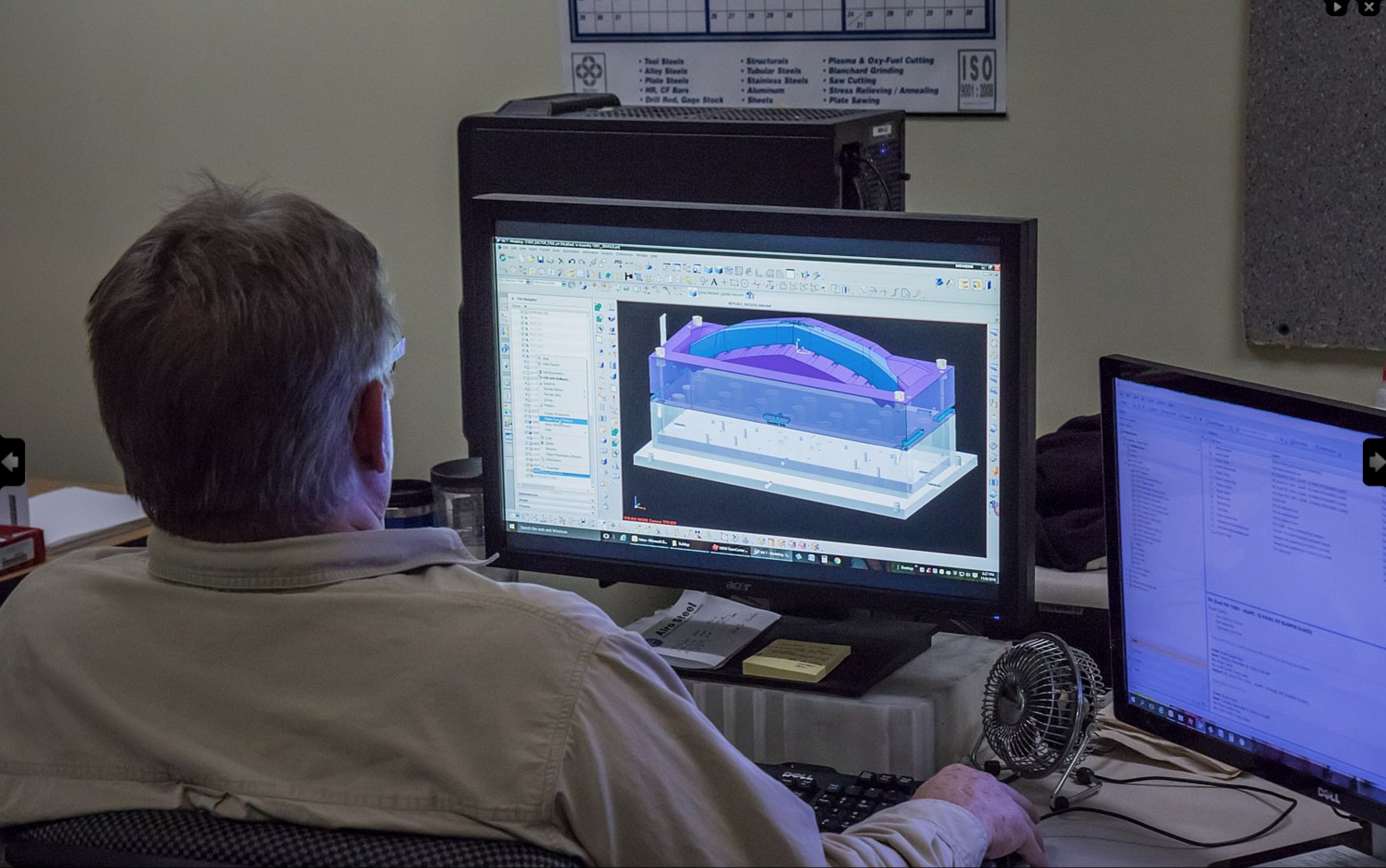 Unigraphics® CADCAM In action in the Engineering DepartmentThe introduction of CAD/CAM software has revolutionized the mold making industry. And we at Model Die & Mold have grown right along with it.
This technology has changed the way in which designs evolve from concept (art) to the final machined, injected, stamped, cast-inspected output (part). Today, there is CAD/CAM software available for every step of the development process, from the napkin sketch to the final inspection of the product when it goes out the door.
Here are just some of the advantages realized through CAD/CAM:
Reduced design time due to more sophisticated design software and higher levels of concurrent engineering.
Reduced fabrication and machining time through higher speed and more accurate machines.
Greatly reduced tryout time, using front-end simulation to eliminate the need for expensive and time-consuming tool reworking.
At Model Die & Mold, our state-of-the-art CAD/CAM system, called UG/NX, takes our design, engineering and manufacturing processes to the next level. It even allows created models to survive major changes to the design part, thereby avoiding model reconstruction that would delay delivery of the tool.
Our People + Our Technology = Your Success!