Why a Compression Mold?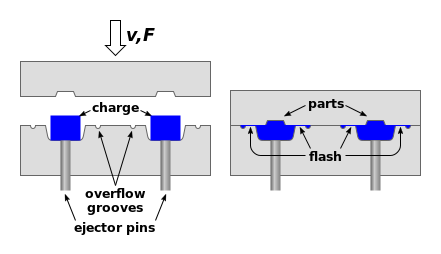 Compression molding - simplified diagram of the process (Source: Wikipedia - Compression Molding )Compression molding is a process where a heated polymer resin is placed between two dies and cured under pressure while maintaining the proper temperature.
The concept of compression molding has been around since ancient times.
However, with the recent advances in material sciences, compression molding and mold design has developed into a highly specialized manufacturing process.
Compression Molding Today
Compression molding is a high-volume, high-pressure method capable of molding complex, high-strength fiberglass reinforced products. The advantage of compression molding is its ability to mold large and intricate components suitable for the aerospace and nuclear industries.
Compression molding has evolved from rubber and silicon molding application to manufacturing composite parts for metal replacement. Compression molding can be used with both thermosets polymers and thermoplastics. Most applications use thermoset polymers.
Maximum Productivity
Model Die & Mold's compression molds are designed to maintain continuous pressure and temperature during the entire resin curing cycle. We achieve minimum cycle time, thus maintaining maximum productivity. Model Die & Mold has a 2500-ton press for compression mold try-outs and early production testing.
Sheet Molding Compound (SMC)
Sheet Molding Compound (SMC)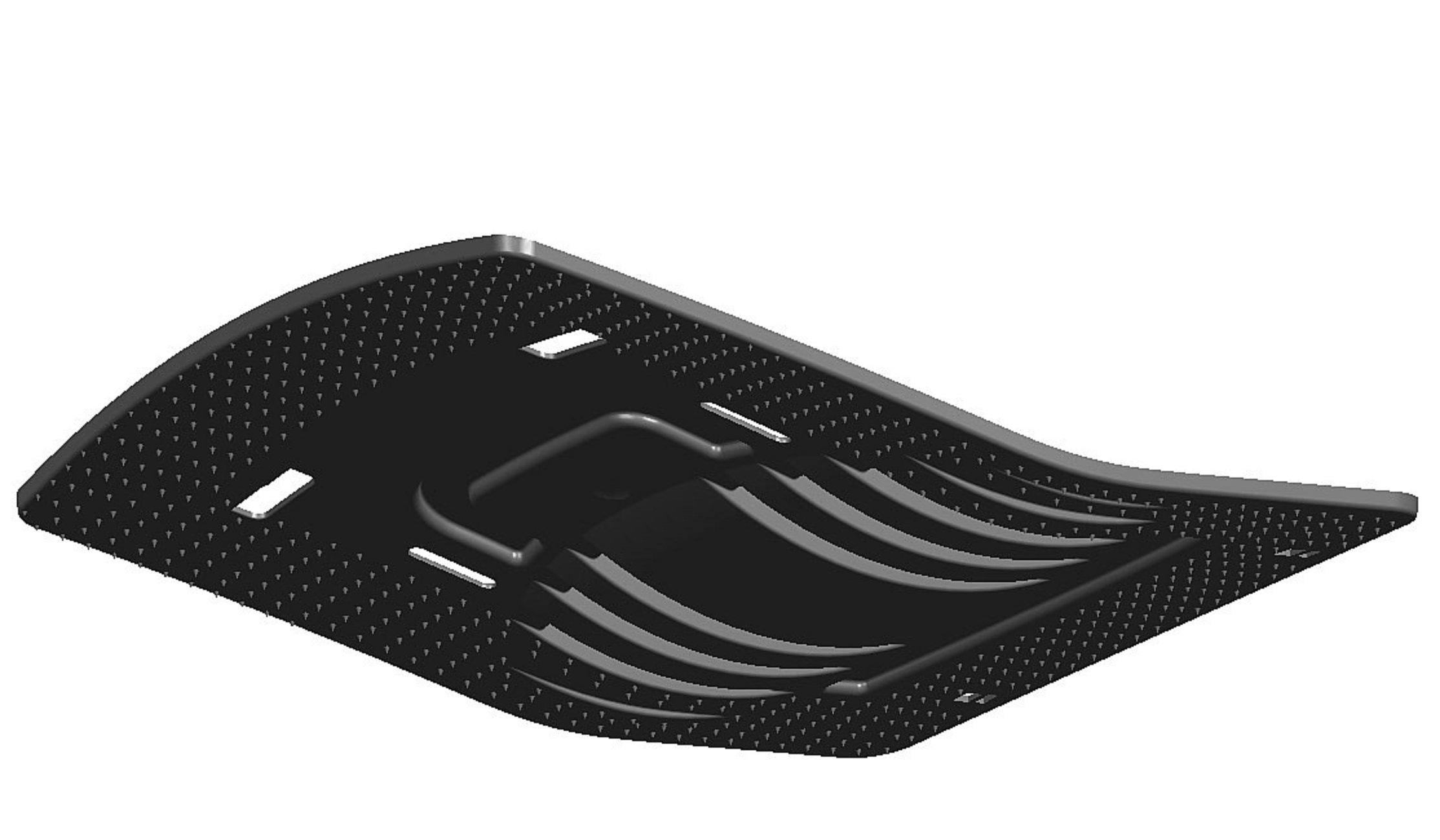 Automotive Headliner is both a material and a process. The sheet molding compound is a fiberglass or carbon fiber sheet filled with a polyester resin. The compound is used for both structural and body elements in the automotive and aerospace industries. Additional applications include fiberglass bathtubs and stadium seating.
The sheet molding compound contains all the elements, resin, reinforcement, filler, catalyst, and additives needed to mold the final product.
SMC offers dimensional stability, high strength-to-weight ratio, impact resistance, low flammability, low maintenance and design flexibility.
These features make it ideal for use in the automotive, construction, wind-energy, marine, heavy transportation and electrical industries.
Bulk Molding Compound (BMC)
Bulk Molding Compound (BMC) is fiber- or carbon-reinforced resin in a homogenous mass form. BMC can be used in injection or compression molding processes.
The advantage to using BMC is that it does not require a curing period after molding.
BMC exhibits high strength, reduced weight, excellent corrosion resistance, dimensional stability, temperature resistance, and fatigue resistance. Additionally, BMC components offer enhanced aesthetics and reduced maintenance.
BMC is useful for automotive, marine, electrical and electronic applications.
Compression Molding Advantages
Fast setup

Less fiber degradation

Large part sizes

Complex parts

Good surface finish

Fewer knit lines